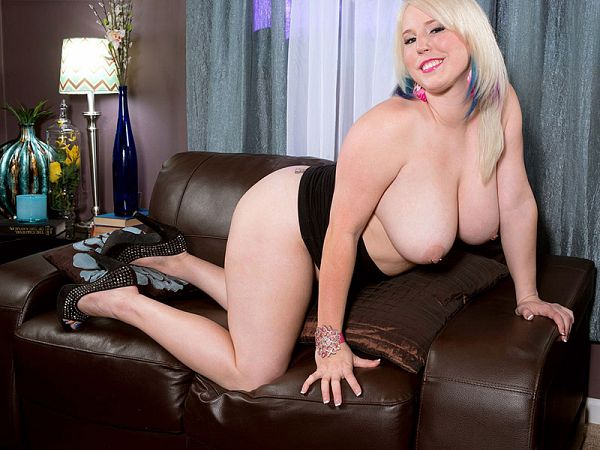 "Nude modeling is something new and exciting for me," said Bunny Brooks, who's very exciting in this scene. "I'm dipping my fingers in a few different things and seeing what I like. I've done a lot of things, but I'd like to be in more situations with women and men where I'm dominating them, spanking them while fucking them with a strap-on."
Sorry, Bunny, but I stopped listening at "dipping my fingers in a few different things." In this scene, blonde Bunny dips her fingers inside her pussy. She also uses a toy on her always-horny fuck box.
Fun facts that Elliot revealed about Bunny in the SCORELAND Blog: "I like to drink a lot of beer. My favorite local bar is in Atlanta. They have a passport club. I've already accumulated over 650 different beers. I'm kind of a beer connoisseur. I'm a gamer and I play World of Warcraft. And I have three large dogs. Great Danes.
"G-spot stimulation is the most satisfying for me. Lots of penetration. I'm more into penetration than clitoral stimulation. I love being fucked hard until I cum and then creampied. If I was having my way, the guy would usually cum in my pussy. That gets me off. I love being fucked from behind, and I love riding a guy's cock.
"Sex twice a week is good for me, if possible. I'd do it more, but I cum so much during my cam shows that I pretty much manage to keep myself satisfied. Doggy style is a favorite so the guy can go really deep and on top so I can control how deep he goes and the motion. I guess that's my dominant side.
"If you're already down there eating me out, I don't mind having a tongue pass over my butthole. If you're going to dive face-first into my ass, that's not really my thing. Sorry. But if you're already down there, that feels good."
This is all good information to keep in mind if you ever meet Bunny during your travels to Atlanta. Hey, you never know.