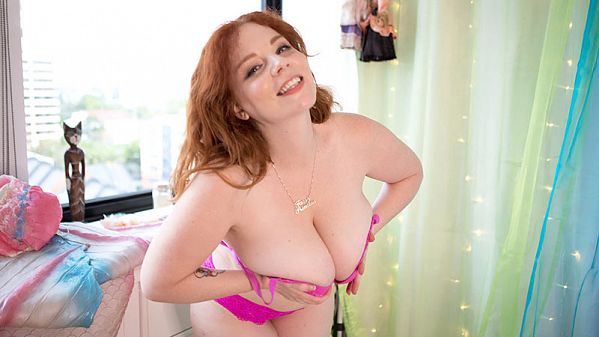 Pretty Australian redhead Avalon is on her terrace having a cuppa, looking at the city skyline and playing with her pussy as this video begins. Her photo-bombing cat, not her cookie.
Avalon knows how to dress in a way that shows off her big tits. You'll see what we mean. She pours water all over her chest in an erotic way.
Avalon goes into her apartment and shows us her special props. Her marionettes (she worked as a puppeteer after high school), her heavy mermaid costume and her faery princess tiaras that light up. Then she shows us her juicy ass, pulling her panties down and grinding her butt.
Avalon continues her body tease and play, squeezing her big, soft boobs, fingering herself and getting on the floor to pleasure her snatch with a huge cock-shaped toy. Artsy-craftsy girl-next-door Avalon has a very special sex appeal that comes through on-camera.