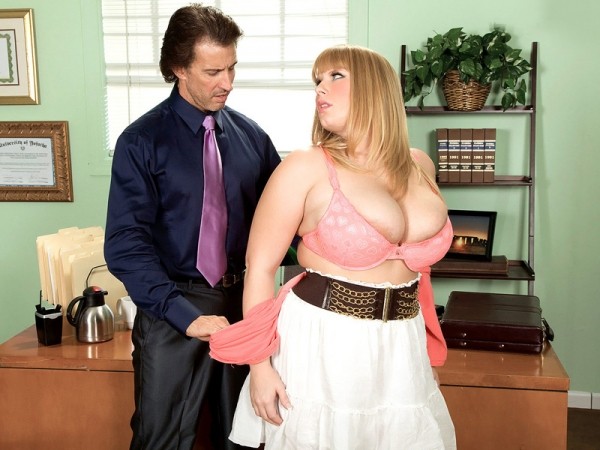 In this scene, cute, curvy and voluptuous Destiny Rose goes to see her professor about her grades. She tells him that her bad grades aren't the result of partying instead of studying. Here's what's been taking up all of her time: She's been dancing at a strip club at night for tuition money. When the professor acts surprised, Destiny says, "Don't act like you don't know. I've seen you at the club twice this week already."
But that's okay with Destiny because she's going to give him a private dance and a lot more right there in his office.
That's one way for a girl like Destiny to get the dick she wants. She told us another way.
"This one time, I was at a gas station and I had just gotten out of my car when the gas station attendant came out and pointed to a 'Slippery When Wet' sign and told me to be careful. Well, I thought he was hot, so I told him that I was slippery when wet. He laughed and told me to be careful anyways because I might slip. And I told him that I might just slip on purpose so he could catch me.
"Well, I pumped my gas and then I went inside with my number written on a piece of paper and I told him that I'd found it on the ground outside and that I thought he might want to have it. He laughed so hard, but he called me. I guess you could say that I like to tease men. I'm a big flirt."
That doesn't sound to me like teasing. That sounds to me like pleasing.
"No guy has ever turned me down when I hit on him."
When she first visited our studio, Destiny turned us down for boy-girl hardcore. She did that again the second time but did her first girl-girl with Kaytee Carter for the DVD More To Fuck. The third time was the charm.
"I'm a nympho, and I've always had a fantasy about fucking a guy on-camera," Destiny said.
I've always had a fantasy about fucking busty college students. This could be my inspiration.