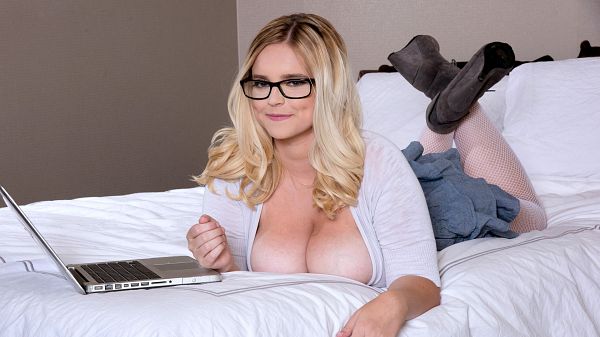 Codi Vore, Voluptuous magazine's newly crowned 2018 Model of the Year, is truly the girl-next-door in this scene. She's lying in bed, playing on her laptop, but the thing is, she's the girl next-door who happens to also be a webcam model, and doing this kind of thing all day gets her very worked up. As Elliot James smartly pointed out when this scene was originally posted on SCORELAND, "Typing and cumming at the same time is a little difficult, so cumming cums first."
Another great thing about this scene (besides Codi's big, natural tits and the way she rubs her pussy): her fishnet stockings. Very sexy.
"I think a lot of people tend to think I have a very girl-next-door feel to me and I'm small and blonde and I have chubby cheeks with dimples," Codi said. "I get a lot of people who think I'm very innocent or those kinds of things.
"One of the things I love about sex is the physicality of it. It's like when you wanna fight. Have you ever just wanted to fight somebody because you wanted to feel what it's like? Sex is an awesome opportunity to play. I mean really play with another adult in a way that is vulnerable but also fun. I'm very aggressive-submissive, and I just like to lose myself in the moment."
Codi's first hardcore scenes are at SCORELAND and in the movie Codi Vore XXX. She's done a three-way with a girl (Luna Bunny) and a guy and a lezzie scene with Milly Marks, and upcoming is a three-way with two guys.
So this is a girl-next-door who does all the things you wished your busty next-door neighbor would do. You do have a busty next-door neighbor, don't you? Doesn't everybody?