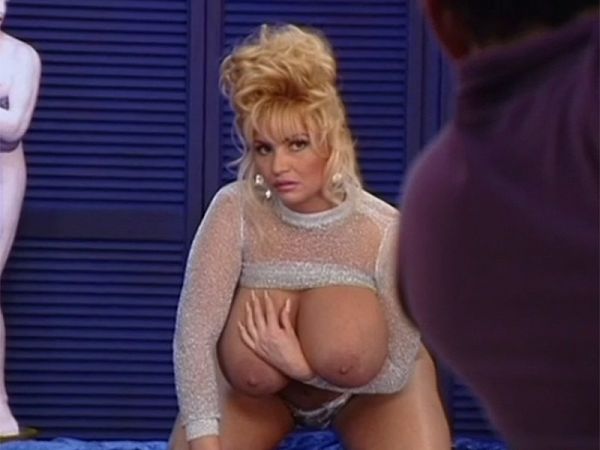 Like many American exotic dancers, now-retired Colt 45 was flown to the London studio of John Graham, SCORE's director of photography. Her first visit was in January, 1993 and she returned throughout the 1990s. This video is from 1993. Starting in 1998, Colt's SCORE magazine shoots took place in Florida.
In a 2004 telephone interview with Colt, she talked about how in 1991 she got into dancing in her hometown of Corpus Christi, Texas.
"I was unloading clothes and boxes at K-Mart. Not the really heavy stuff. I loved doing it. But, the waiters at El Chico's, most of whom were gay, would tell me all the time, 'Girl, with your body you need to be a dancer.' They got me drunk on beer, took me to a gay bar and I danced for women. I figured, because they had the same things I did, it was okay. I was very shy then.
"I was drunk. The girls went crazy, too. My friends told me I was passing up $20 bills because I was too drunk to see them. The deejay was a girl, and when one of my pasties broke off, she almost broke her neck getting over that deejay booth to run on stage and help me get the pasty back on. Then, she cornered me in the dressing room after the show to try and make out with me. Four months later, some friends had a traveling show, and I tried it and have been dancing ever since then."