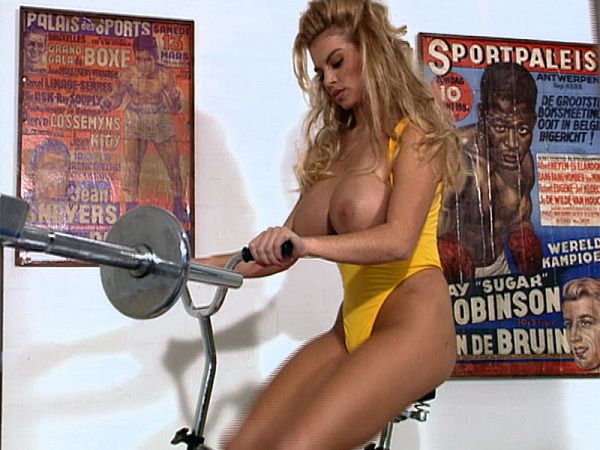 This London-shot video of Erica Everest working out with weights, a stationary bicycle and other equipment was edited into the DVD Greatest Big-bust Video Ever 2.
This SCORE Classics version is the uncut version with the director's voice taking Erica every step of the way through the different exercises, oiling, tit play and pussy tickling. No one has ever heard this outside of the editing room. It adds a completely new point-of-view.
A Kentucky girl, Erica was one of the big names of the striptease circuit in the 1990s. Her pictorials were published in all of the big-bust magazines. She was a guest on the Howard Stern show and other talk shows and was a shipmate on the 3rd Boob Cruise in 1997.
"i'm really quiet and conservative," Erica told SCORE's editor in an early morning phone interview. "I'm just a normal girl. I like to do normal things. I play and have fun but that constant partying stuff isn't really my thing. I'm a serious person. I like to think that I have my shit together. I go out to party when it's time to party but every minute of my life isn't a joke for me like it is for some people."