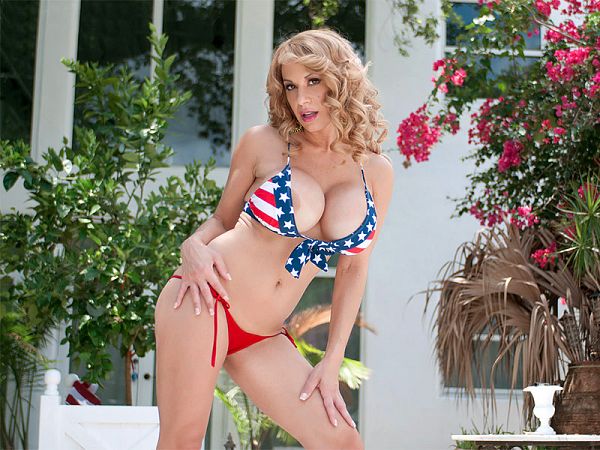 It's the Fourth of July–Independence Day here in the United States–and what better way to spend it than by jacking off to all-American girl Alyssa Lynn, who's wearing a red, white and blue flag bikini. Now that's the spirit! The patriotic spirit. I feel myself swelling with patriotic pride.
This is one of those cases where the video is a lot hotter than the photos. Most of the photos are of Alyssa showing off her hot, slim 'n' stacked bod in the bikini. The video is where the real action happens. Alyssa juts her tits into the camera and pulls her bikini bottom up between her cunt lips. I'm a boob man first and a pussy lover second, and I have to admit, for me, with Alyssa, it's pussy first, boobs second.
But make no mistake: Alyssa has it all.
"I have the body for porn" Alyssa Lynn said. "I was at a community college. Didn't know what I wanted to do. I had a boyfriend who told me what to do, so then I went to St. Joe's University for a while. I originally wanted to be a cop, but that school didn't have a Criminal Psychology major or anything similar, and so I switched and got my nursing license.
"I used to run a lot so I was really thin. When I was in nursing school, I'd run 13 miles a day in the morning. I knew I was never going to have big boobs. I actually told my mom the day before I went into surgery, 'Oh, by the way….' She freaked out because she was a nurse as well.
"I was afraid they were going to be going in different directions or they weren't going to heal right, but they were fine. Before, it wasn't like I was showing off anything because there was nothing to show off. Then I was wearing a lot of the same stuff so I was showing more. I had to buy new bras. Before, I wasn't wearing any at all."
The world is a much better place because Alyssa decided to be a porn star instead of a nurse. Anyone can be a nurse. It takes a special kind of girl with special qualifications to be a SCORE Girl.