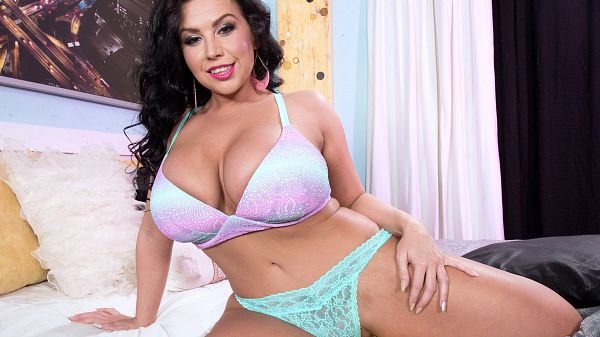 Here, Ms. Sheridan Love, one of the great SCORE finds of this decade, is by herself (unless you count the dildo that she uses on her pussy). For the first four years of her modeling life, Sheridan by herself was the norm, but then, in 2015, she did her first-ever XXX for us (with JMac), and there's been no looking back. Now she can't keep her hands, mouth, tits and pussy off the cock.
But Sheridan–beautiful, big-titted, curvy as hell, big-assed Sheridan–has always been just fine with just toys. Even better than just fine. She's a toy expert. As Elliot wrote when this scene was first posted at SCORELAND, "If you've seen her videos, or if you've seen her cam shows, or perhaps met her in person at adult expos, you know she dearly loves her toys as much as she loves her sexy outfits and shoe collection."
SCORELAND:Sheridan: How many toys do you think you own now? Any new favorites?
Sheridan: I have no clue! I have so many! I find them in random places around the house! The bedroom isn't the only place I like to play. My recent faves are my tentacle toy and Coming Dragon dildo I got from Bad-Dragon.com. I love their fantasy toys. They are different, dirty and feel so good. There are so many more from them that I want!
SCORELAND: So you open a closet and there's an avalanche of dildos and vibrators?
Sheridan: Not quite, but close enough!
SCORELAND: What do your fans ask to see you do the most these days?
Sheridan: I gave them hot girl-on-girl action. Then I took my first cock on-film for all to see. I liked it so much, I decided to take two at the same time. So far everyone loves what they see. I keep getting asked for more of everything!
SCORELAND: What is the most-unusual position you've tried so far?
Sheridan: Piledriver, for sure, still. Especially in the threesome.
SCORELAND:Which big-boob models would you like to meet face-to-face?
Sheridan: There are so many! Katie Thornton, Alexya, Karina Hart, Dolly Fox, Sha Rizel and Harmony Reigns, just to name a few.