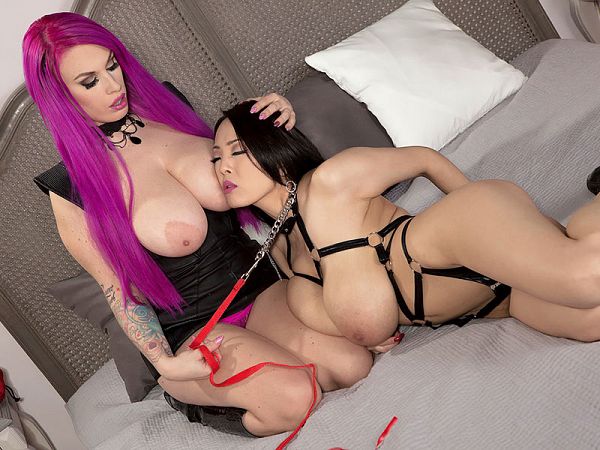 In the second encounter between British babe Lily Madison and Japanese super-titter Hitomi, black-booted Lily Madison is a sweet and demanding dominatrix. Hitomi is the submissive, obedient to Lily's will for mutual pleasure. In Lily's hand is a version of a cat o' nine tails. She has Hitomi on a leash. Lily runs the multi-tails of her whip over Hitomi's big breasts and relishes the power she has over the girl from Japan whom every man wants in his bed.
What made these two scenes so historic was that they marked the first times Hitomi had fingered, eaten and dildo-fucked unpixelated pussy on camera. Let me explain: Japan has very strict laws about what can be shown in porn scenes. Girls can suck and fuck cock all they want, but their pussy and the guy's cock must be blurred or pixelated. I know, it's crazy, but that's just the way it is.
So, although Hitomi has sucked and fucked real cock and eaten real pussy on-camera, the cocks and pussies have always been blurred, and that can be a real downer. But, although Hitomi herself won't show her pussy on-camera even in our American-produced porn, she had no objection to eating and fucking unpixelated pussy. And that's what she does here.
One of these days–I just know it!–Hitomi is going suck and fuck unpixelated cock on-camera. She's going to spread her pink, wet, unpixelated pussy for all the world to see. That is going to be a gigantic event. I hope we're the ones to film it.