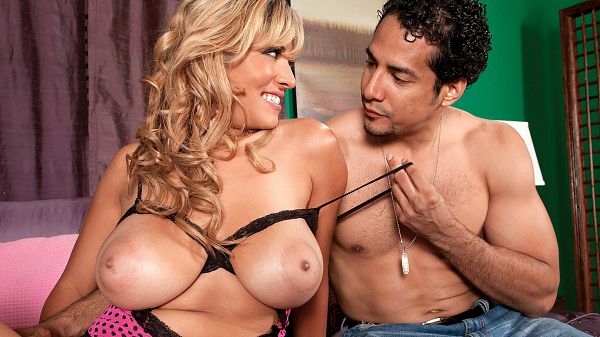 "I like sex as often as I can get it, not as often as I'd like," said Puerto Rican chica Kitana Flores, who has beautifully shaped natural tits and a great ass. "I'm so busy that sometimes it seems the only times I have sex are when I'm in the studio. Maybe that's why I enjoy it so much. I enjoy having sex on-camera, which I guess makes me a bit of a bad girl."
That depends upon your definition of "bad." Here, Kitana is wearing sexy lingerie that shows off her tits and pussy. Is that bad? No, it's good. Then she sucks the dude's cock, gets fucked doggy style while he fingers her asshole then takes his load all over her pretty face. The cum drips onto her tits. Is that bad? No, it's very good.
"I can be pretty wild," Kitana said. "I think a lot of Puerto Rican girls are that way. We hide our wild side until we get into private situations. We don't think it's proper to be too out there in public, even though we can dress sexy."
I think I've told the story about the time I poured oil all over Kitana's body and even squirted it into her pussy and asshole. Okay, I've told that story a thousand times, but you would, too, if you'd ever squirted oil into Kitana's pussy and asshole. Of course, that's the closest I've ever gotten to putting anything into her pussy or asshole, but I'll take it.
Thank you, Kitana, for that memory. It often comes in handy.