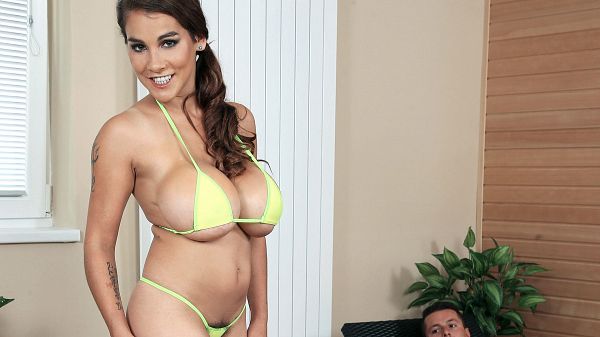 Small-town, big-titted Czech babe Mischel Lee is hanging out in the spa, wearing a skimpy bikini, when some dude comes out of the sauna and sits next to her. When Mischel notices the lump in his towel, she stands up and drops her towel to show off her amazing body and hairy bush. And then a day at the spa takes on a whole different meaning. Sucking. Fucking. The dude finally comes all over her bush but not before he's drilled it every which way.
SCORELAND: Mischel, do you like looking in a mirror during sex at home and seeing yourself?
Mischel: I must try it at home and I will tell you.

SCORELAND: Do you like to talk dirty in bed?
Mischel: If I am in the mood for that, yes.
SCORELAND: Do you have a favorite tit-fucking position?
Mischel: I love sex in general and different partners have different positions in which they are best at that.

SCORELAND: What makes your nipples very hard?
Mischel: Sucking them.
SCORELAND: Do you like to have your nipples pinched or pulled?
Mischel: Yes, I love it.