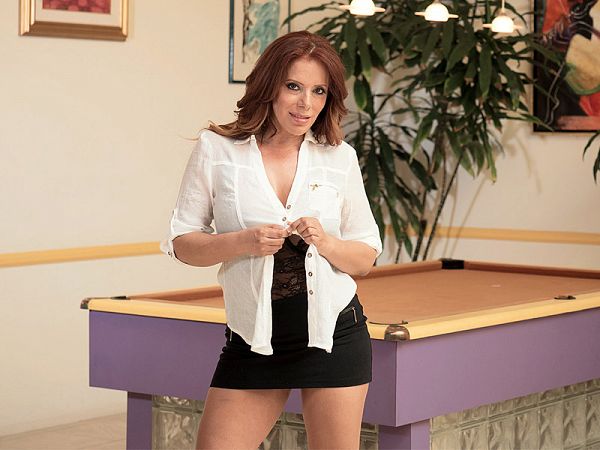 "This pussy is for you," 46-year-old Nicky Ferrari says in Spanish in this video. When she says it, she has two fingers buried deep inside her mature cunt, and you can hear how wet she is. So, not only is her pussy for you…it's ready for you, too.
When the video opens, Nicky is dressed in a very sexy outfit: a tight, white top, a short skirt and fuck-me pumps. When the top comes off, we see that she's wearing sexy lingerie. Then it all comes off and Nicky climbs onto the pool table to play with her pussy and work her ass. She has big tits and dark nipples. She has a tight asshole.
"I am very wet for you," Nicky says in Spanish. Throughout this video, she speaks in English and Spanish.
Nicky is a mom. She has two sons. She's also a porn star in Southern California, which is where she lives. It must be interesting to have a porn star as a mother. What's that like? It would make a great reality show. "My mom's a porn star!"
Nicky is not a swinger and considers herself sexually passive. She prefers traditional roles where the man makes the first move. She says she likes gentlemen, but that's only until she gets to the bedroom. Then she wants a caveman who will fuck her senseless. She likes to get fucked hard and doesn't mind being called a slut. And she'll let you cum wherever you want. With a body like hers, there are many options, and you're about to see all of them.