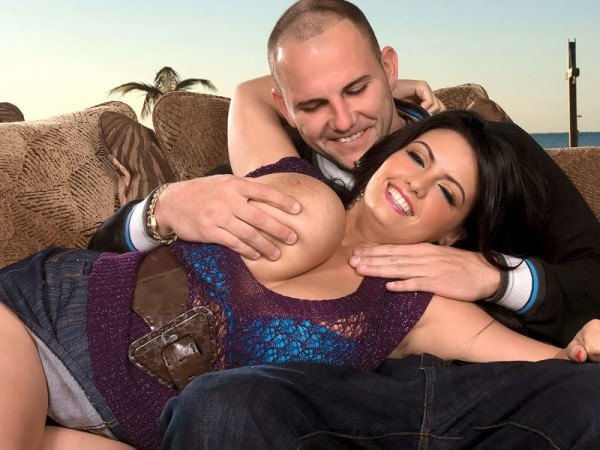 The odds of any of us finding a hitchhiker with the face, boobs and body of Arianna Sinn are not good. The odds of any of us finding a hitchhiker with the face, boobs and body of Arianna Sinn, and who will fuck our brains out after we get to her destination are even worse. That's why fantastic male fantasies like this are put on video and photos.
I've picked up exactly one hot hitchhiker in my entire life and she did not have anywhere near the body of this Romanian masterpiece (she was more the Naughty Neighbors type), and it ended with me getting a fake phone number. What happens in his video only happens to porn guys.
One-of-a-kind Arianna is an amazing model even by herself, just doing things naked or masturbating, but with a cock inches away, her zest and energy pours out of her like a dam bursting from raging flood waters. She bangs the hell out of her stud/driver once they get out of the car. She feeds him her pointy nipples and vigorously tit-fucks him. Then she plays his cock like an harmonica. When she's fucking, she bounces her massive, natural boobs like crazy and takes a hard drilling in the tough piledriver position (impressive!).
And in all the moves she makes with a cock in her mouth, between her tits or inside her pussy, she has this erotic flair about her that I can only describe as European. She's passionate without being mechanical: genuine and real. I'm the last guy who wants to see lovemaking like they show on those late-night cable movies, but Arianna comes close to actually making love to the cock without all the mush and neck-kissing.
Arianna explained what pushes her buttons: "I love to be in command. But once it starts, I like the man to be a little more aggressive. I can make sex happen, but then I like him to tell me what he wants and do what he wants with me. I love to shake my boobs in a man's face and see his reaction. One time, I tried to smother a man with my boobs."
Who needs oxygen?