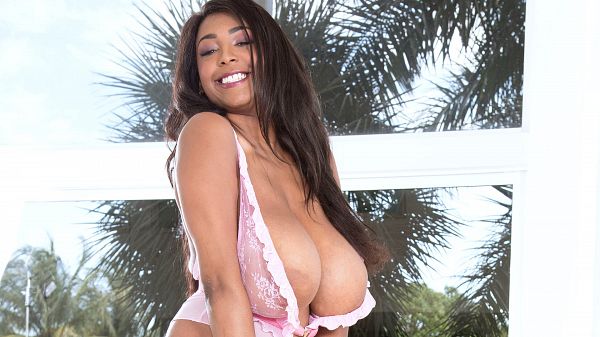 The pairing of 18-year-old Rachel Raxxx and super-stud JMac is absolutely perfect. Rachel has some of the biggest naturals I've ever seen–truly spectacular hangers–and she has the sex skills of a much older girl. JMac loves tits and can really handle a girl like Rachel, who needs her rack manhandled. He fucks her hard and glazes her rack like only a true porn pro can. Okay, so one of us probably could, too, if we saved up long enough.
Probably my favorite part of the video comes at around 10:30. JMac is sitting down. Rachel has her tits wrapped around his dick. She's giving him a blow job, and JMac grabs her head and gently bobs her head up and down on his cock.
There's lots of tit-fucking in this scene. Lots of boob-hanging from different angles. The camera gets in close, too. You can tell that the cameraman knows that we care just as much about Rachel's tits as we do about her pussy. Check out the closeups up her stacked tits while she's on her side and getting nailed.
The theme of this video is one of my favorites, too. JMac knocks on Rachel's front door looking for her dad. Rachel answers the door in a nightie that's falling off her 30JJ breasts and high heels. Dad's not home, but she invites him inside and the fun begins.
"Sometimes you can put them in their face," said Rachel about the things she can do to a man with her heavy hooters. "A lot of times I don't have to do anything. They just go for them. Grab on them or suck on them. I can wrap them around their penis and jack them off with them. You can do a lot with big boobs. Boobs are fun. I like having them."
We love that she brought them to SCORE.