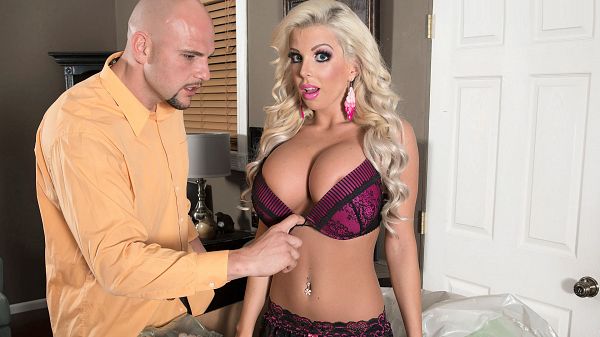 In this scene, 22-year-old hottie Savannah Stevens, a real-life love doll from Texas, plays a love doll who comes to life. JMac is home when he hears a knock on his door. He answers, and a courier delivers a big box marked "HANDLE WITH CARE." What's inside the box? A love doll! A Savannah Stevens sex-droid love doll with big, soft, jutting tits.
He sees a tag on the doll's back: "Pull here to activate." With a tug, it, or rather "she" shudders, a beeping sound is heard and she takes a deep breath. Her tits thrust out and she awakens with a smile, her hands slowly running down her slim, stacked body.
"I feel so much better now," Savannah-bot says.
He can't wait to try her out and test her realistic mouth and pussy. As Elliot wrote when this scene was first posted, "Whoever programmed this sex doll in sucking and fucking knew his code work."
After this scene was shot, Savannah was interviewed for SCOREtv Season 2, Episode 2 (that episode, as well as all of the other SCOREtv episodes, are at SCORELAND).
"I just had the time of my life," Savannah said. "I got to be fucked like a Barbie Doll. I was like his toy. I like to be grabbed and turned around. I only like it sexually, though. I like it in the bedroom."
Savannah called it "The scene of my life. This was my favorite scene in my life."
We asked how Savannah transformed herself into a love doll, and she said, "It's pretty simple. You just live up to the bimbo name."
Blonde. Big tits. Loves to suck and fuck. Savannah had no trouble doing that.