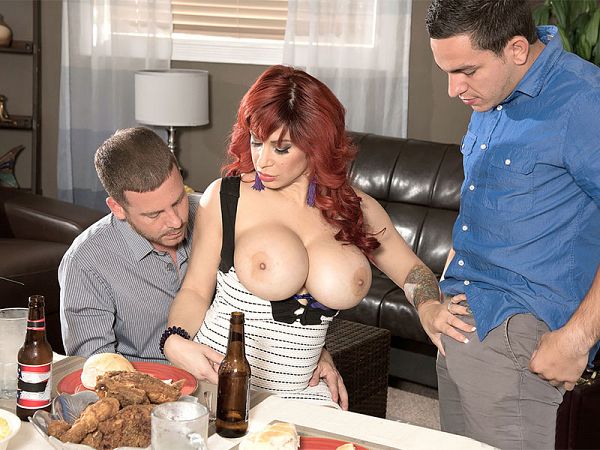 The story:
Alyssa Lynn and Tony are entertaining Peter at their place. Alyssa prepares dinner as the guys talk business, and she's looking babely, as she always does.
Peter is reluctant. Tony calls Alyssa over and has her sit on his lap. Tony makes Peter an offer he can't refuse: a 50-50 partnership in everything. Including 100% of Tony's hot wife.
And then the three-way sex begins.
Alyssa is tagged as a redhead in this posting. When she first came to SCORELAND, she was blonde. I think she's blonde now. She changes her hair color often. Personally, I like the different blond colors she picks.
Alyssa was a nurse and a stripper. When she came to SCORE for the third time, she sported a tattoo sleeve on her left forearm. Last I know, Alyssa was doing porn and still dancing.
Alyssa was a licensed practicing nurse for five years. Why did she switch from nurse to porn?
"A friend said to me, 'You should get into porn.' He knew I was good at giving head. And he said I had the body for it. I thought about it. And I was already dancing. I watch porn but not every day. Off and on."
Alyssa originally danced at Club Risque in Philadelphia, her hometown, and when she moved to Los Angeles, she danced at places like Dames 'N' Games, a topless sports bar in Van Nuys. We shot a strip club scene with her and JMac that's one of my favorite scenes of her.
Alyssa has blow job skills. Before her life in porn, she got compliments about her cock eating.
"I thought I wasn't doing anything different than any other girls does. I just enjoy giving oral. It's just the pleasure of seeing a guy get off. I love to swallow cum. It's very unladylike to spit. You swallow, ladies. Men love it. I love it."