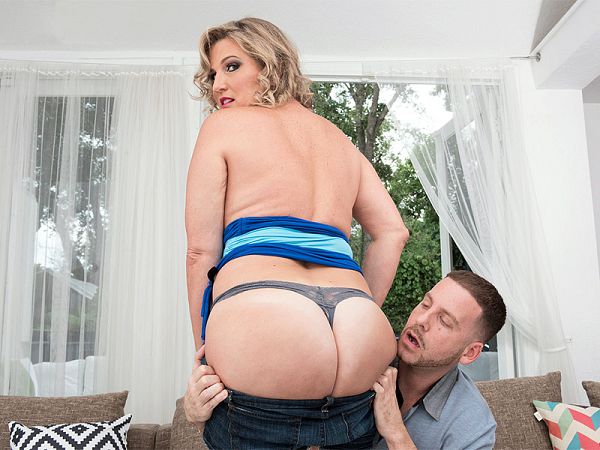 Tony knocks on the door, looking for his girlfriend, and 43-year-old Candace Harley answers, wearing a tight tube top that her big tits are bulging out of.
Well, his girlfriend is Candace's daughter. Tony is 36. Candace's daughter is 18, and she's not happy about this situation, so she has him come inside. You know, to give him a good talking to.
"I thought you guys were sisters," Tony tells her, but his sweet-talk isn't working.
"Have you fucked my daughter?" she asks.
He says they haven't.
"You know what?" she says, pulling out her tits. "I think you're going to like this better."
And he does. He fucks Candace's mouth, DD-cup tits and tight pussy, and when he can't hold back any longer, he cums all over her chest, proving once again there's no reason to fuck young girls when there are MILFs like Candace roaming the planet.
This is Candace's first XXX video, and it's an impressive beginning. She's a divorcee and mom from Miami, Florida who was very nervous about her first scene but did everything we asked her to do and more. We think she's a natural.
"I like the thrill of being watched but have never been caught or confronted for it," Candace said. "Maybe the voyeur just enjoyed watching."
We can see why.
"I have had multiple encounters with women," she said. "It depends on my mood."
Meaning whether she's in the mood for cock or pussy.
"I often initiate sex," Candace says. That's what she does here, although Tony staring at her big rack probably got her started.
Enjoy Candace, a total amateur who's not even a swinger, has never been a stripper, had never been filmed having sex on-camera. But a woman's gotta start somewhere, and we're glad Candace started with us.