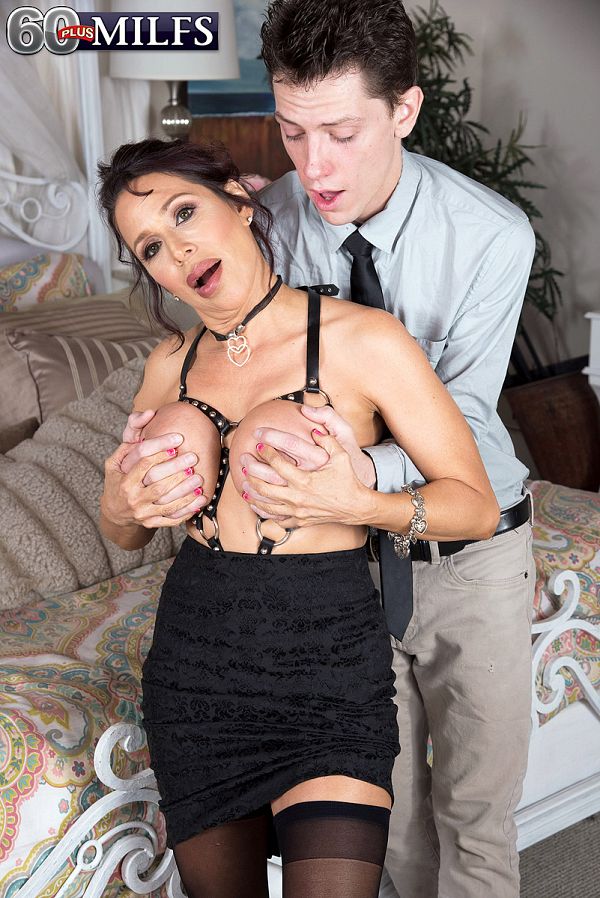 Dressed in sexy lingerie, 60-year-old divorcee, mother and grandmother Lisa Marie Heart sucks and fucks a guy who's 34 years her junior. Lisa Marie has big tits, and a tight, curvy body, impressive oral skills and a big-time hunger for cock.
60Plus MILFs: Can you tell us a little bit about yourself?
Lisa Marie: Sure. I'm from Phoenix. I'm a mother and a grandmother. I was a topless dancer for years.
60Plus MILFs: When were you a topless dancer?
Lisa Marie: In my 30s. I started as a waitress, and the girls on-stage looked like they were having lots more fun than I was. I danced for about 10-to-15 years. Then things started getting really slow, and I realized that all those hot, sexy men I was teasing? I could see them after I got off work. I'd get so turned on dancing, so it was more fun to see them outside of work and enjoy every part of them. And I really like sex, so it was perfect.
60Plus MILFs: When you were dancing and saw a guy looking up at you, what would you do?
Lisa Marie: I'd get down on my knees and crawl over to him real slow. If my top wasn't off already, I'd take it off. Then I'd tease him and show him my ass and sit on his lap and slowly crawl back on-stage. After I'd do that, they'd always want a lapdance.
60Plus MILFs: Did guys cum from your lapdances?
Lisa Marie: Oh, yeah. I wanted to change my name to The Cuminator, but the manager of the club wouldn't let me. The guys knew I'd make them cum. I always carried lube, and I'd stick my hand down their pants and get them really hard, and they'd get so turned-on, they usually came in one dance.
Let's see if you can make it to the end of this video before cumming. We're guessing you won't.